Brad Zimmerman's hilarious and inspiring story about the grit & passion it takes to "make it" as an artist & the sweet rewards that come from never giving up!
My Son The Waiter, A Jewish Tragedy
If you ever longed for something, If you ever desired it with all your heart, If you were willing to wait tables for 29 years to pursue your dream then My Son The Waiter will give meaning to your Life!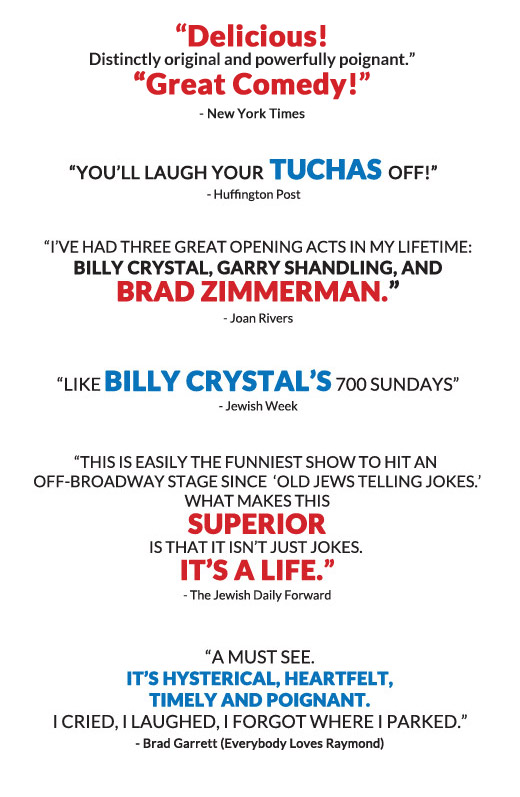 From The Producers of
My Mother's Italian, My Father's Jewish And I'm In Therapy
Respect, and You Say Tomato I Say Shut Up!

OCT 5 - NOV 19
PHILADELPHIA, PA
Penn's Landing Playhouse
211 South Columbus Blvd
Philadelphia, PA 19106
Box Office: (855) 448-7469
Group Sales (12+): (888) 264-1788
Show times:
Thu. 2:00PM & 7:00PM, Fri. 8:00PM,
Sat. 2:00PM & 8:00PM, Sun. 2:00PM
THEATER LOCATION - BUY TICKETS

NOV 28 - DEC 10
TORONTO, ON
The Greenwin Theatre in the
Toronto Centre for the Arts
5040 Yonge Street
Toronto, ON M2N 6R8
Show times:
Tue. 8:00PM, Wed. 1:00PM & 8:00PM,
Thu. 8:00PM, Sat. 8:00PM,
Sun. 2:00PM & 7:00PM
THEATER LOCATION - BUY TICKETS

FEB 1 - MAR 25
FT LAUDERDALE, FL
NSU Art Museum Auditorium
One East Las Olas Blvd.
Ft. Lauderdale, FL. 33301
Tickets will be available soon!
Show times:
Thu. 2:00PM & 7:30PM, Fri. 7:30PM,
Sat. 2:00PM & 7:30PM, Sun. 2:00PM