Brad Zimmerman's hilarious and inspiring story about the grit & passion it takes to "make it" as an artist & the sweet rewards that come from never giving up!
My Son The Waiter, A Jewish Tragedy
If you ever longed for something, If you ever desired it with all your heart, If you were willing to wait tables for 29 years to pursue your dream then My Son The Waiter will give meaning to your Life!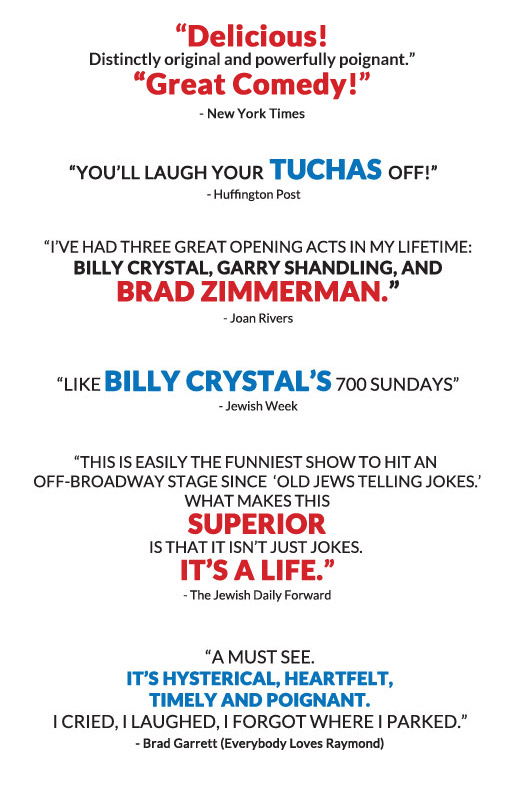 From The Producers of
My Mother's Italian, My Father's Jewish And I'm In Therapy
Respect, and You Say Tomato I Say Shut Up!

WORCESTER, MA
DECEMBER 3 & 4, 2022
Worcester BrickBox Theater
Jean McDonough Arts Center
20 Franklin Street
Worcester, MA 01608
Box Office: 877-571-7469
Show times:
December 3, 2022 @ 8 PM
December 4,2022 @ 2 PM

WILMINGTON, DE
MAY 31 - JUNE 18, 2023
Delaware Theatre Company
200 Water St
Wilmington, DE 19801
Tickets Coming Soon

RICHARDSON, TX
JULY 6 - 30, 2023
Eisemann Center for Performing Arts
2351 Performance Dr
Richardson, TX 75082
Tickets Coming Soon

LAKEWOOD, CO
AUGUST 3 - 20, 2023
Lakewood Cultural Center
470 S Allison Pkwy
Lakewood, CO 80226
Tickets Coming Soon